Anti-Allergen Solution

Address the Source of Your Allergies,
Not Just Symptoms

Plant & Mineral-Based Formula Allergen Control
Anti-Allergen Detergent

Eliminate Allergens From Clothing & Fabrics

Recommended by Allergists & Dermatologists
Anti-Allergen Solution
Address the Source of Your Allergies,
Not Just Symptoms
Plant & Mineral-Based Formula Allergen Control
discover now
Subscribe & Save
Your new cleaning routine starts here.
Here's why we know you'll love it:
Subscribe & Save
Subscribe now and save 15% on automatic deliveries of your favorite Ecology Works products.
Here's how to get started:
Shop your favorite Ecology Works products.
Select the quantity and schedule that works for you.
Create your subscription by clicking "subscribe" and check out as normal.
Sit back and relax, we'll take care of the rest.
Anti-Allergen Laundry Detergent
Recommended by Allergists & Dermatologists
Perfect for people with allergies, those with sensitive skin, babies, people with chemical sensitivity, and those who simply want a hypoallergenic,
100% biodegradable detergent that is highly effective against stains, grease, and allergens.
$16.75
Learn more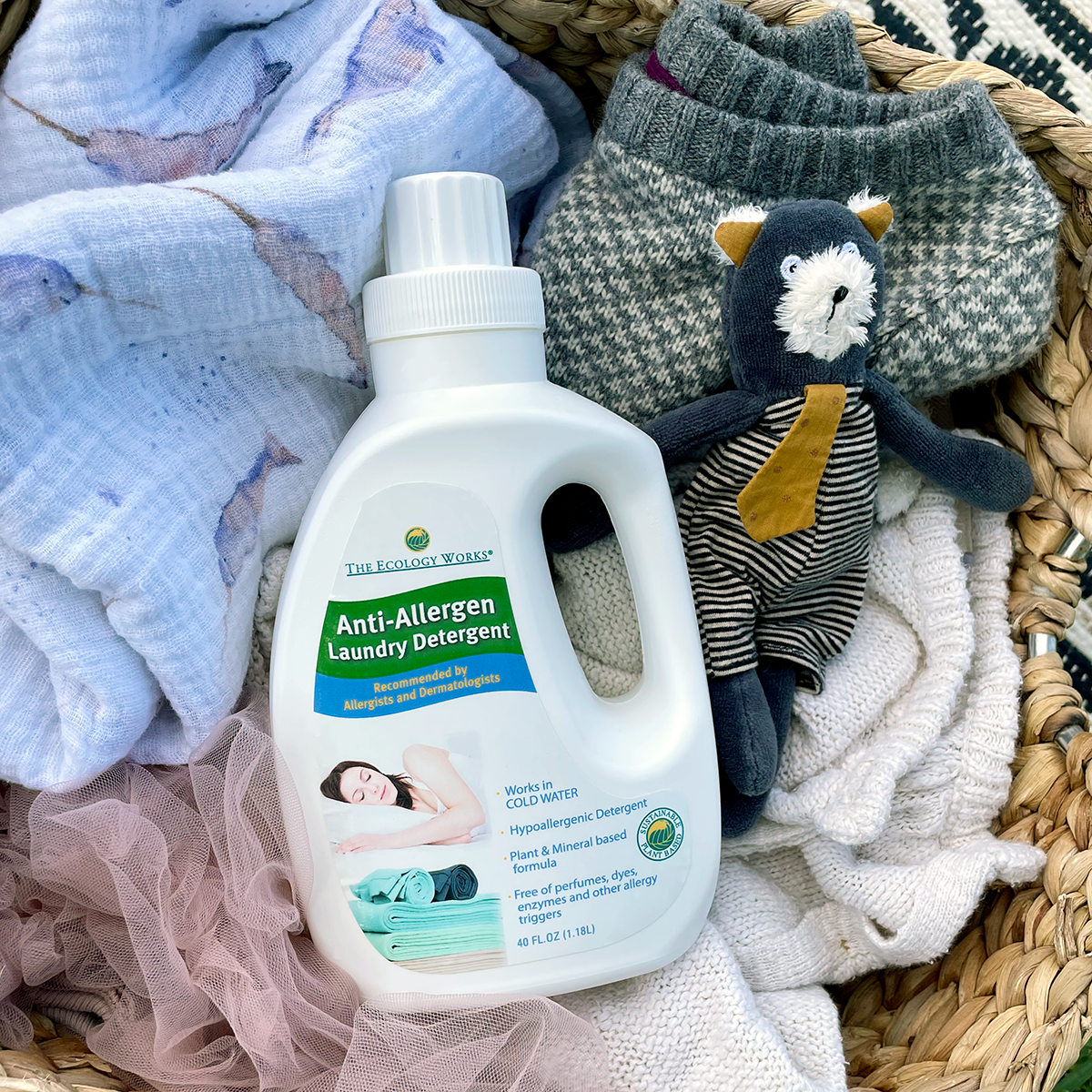 Your Guide
Our Blog
Cleaning guides, allergen-reducing tips, and more to help you get the most out of your Ecology Works products.
Allergies, those pesky reactions that affect millions of people worldwide, are the result of an...
Read more
From the People
Customer Reviews
This is the best product I've tried. My older children get allergies as soon as they step foot in the house. I have a husky. Thank you.
Hilda - Amazon Customer
Love this product! Ecology Works for this allergy family...makes life so much better! Thank you!!
Linda – Online Customer
Their products and services are outstanding.
Benjamin – Online Customer
This stuff has saved my life. I spray my entire house (rugs), and within a month or two my allergies were basically non-existent.
Jan – Online Customer
I have been ordering the laundry detergent from Ecology Works for years and find it to be an excellent product.
May – Online Customer
Vital Oxide is my FAVORITE but I also love many other products from Ecology Works. What more can I say??
Leah – Online Customer
Customer service was excellent ----delivered as promised and product was very satisfactory
Manuel – Online Customer
Very good laundry detergent, yet gentle on the skin. I was diagnosed with having an allergy to potassium dichromate which is in most laundry products. This product does not have it. I have been using this product for about 5 years, and have had no more allergic reactions due to sleeping on sheets & pillow cases that have been washed in other detergents. I am so thankful for this great product!
Bonnie - Online Customer